Support from OS
Support for Asynchronous Events

example

events from devices
user input
timer events

methods

Hardware Protection

user mode vs. supervisor mode
privileged instructions

Support for Address Spaces
Timers

Timers can be set, and a interrupt occurs when the timer expires.
Interrupts
When an interrupt occurs, the CPU:
stops
saves state
changes into supervisor mode
branches to predefined location.
Return-from-interrupt (rti) automatically restores state. Interrupts/Exceptions can be invoked by asynchronous events (I/O devices, timers, various errors) or can be software-generated (system calls).
System calls
Example in 32-bit Linux:
load system call number in register eax
load arguments to system call in registers
ebx , exc , edx , esi , edi , ebp
invoke software interrupt: int 0x80
Returned values are stored in eax
Software interrupts are expensive! Compiler optimization not possible.
Cost of context switch (saving/restoring registers)
Caches are stale
TLBs
CPU pipelines
Why still interrupts or system call?
Can load user program into memory without knowing exact address of system functions.
Separation of address space, including stacks: user stack and kernel stack.
Automatic change to supervisor mode.
Can control access to kernel by masking interrupts.
Handling exceptions on x86
Interrupt descriptor table (IDT)
Interrupt Vector Table x86-style:

processor exceptions, hardware interrupts, software interrupts

256 entries: Each entry contains address of interrupt handler (interrupt service routine).
The first 32 entries reserved for processor exceptions (division by zero, page fault, etc.)
Hardware interrupts can be mapped to any of the other entries using the Programmable Interrupt Controller (e.g. 8259 PIC)
The exception handling procedure is as below.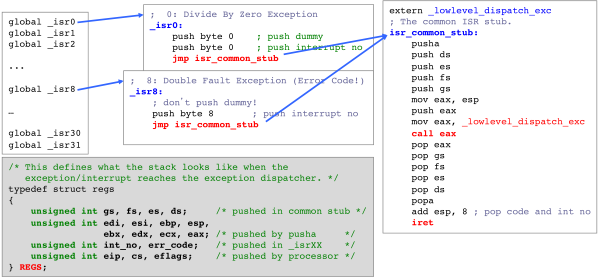 There are 4 steps here,
save states
call dispatch function
load states
return from interrupt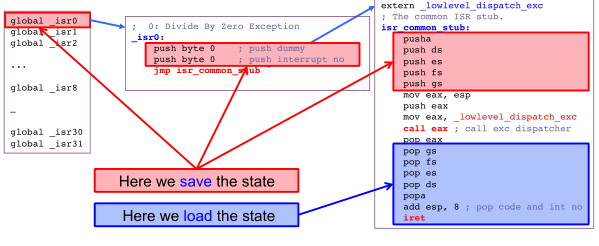 Reference
This is my class notes while taking CSCE 611 at TAMU. Credit to the instructor Dr. Bettati.